Multilingual e-mail marketing products and services
"I need to deliver 10,000 personalized e-mails to my customers and subscribers each quarter..."

"I need to deliver 200,000 personalized e-mails for my client by tomorrow..."

"I need to deliver two million personalized e-mails today..."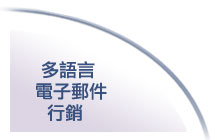 All contents copyright © 2003
We offer products and services that allow you to manage your own large-scale multilingual e-mail campaign or we will manage it for you - it's up to you.
Arial Global Reach products and services are used by large and small organizations to send personalized multilingual bulk e-mail to customers, prospects, members or subscribers. Whether you are delivering ten thousand e-mails a day or ten million, we have the technology and experience to empower you with solutions that really work.
You now have the option to manage all your email marketing, in-house, with powerful direct email software used by thousands of organizations large and small. Check out Campaign software products developed by Arial Software.