Asian-language localization
Arial Global Reach is the industry's best-known Asian-language localization firm serving clients like Intel, Dell and 3M.
We enable you to reach a global market with quality documentation, software interfaces and on-line content. We've successfully completed hundreds of projects in our seven years of operation, and we can help you with Chinese translation, Japanese translation or Korean translation.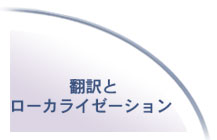 All contents copyright © 2003
As companies open up business across borders and continents, more and more are enlisting the help of translation services to localize their software, marketing materials, product manuals, and websites into the languages and technologies of foreign markets. Choose a translation service that not only takes responsibility for translating your business' texts, website, or product documentation clearly but also ensures that your company's image is conveyed in an appropriate way to the target culture.
Arial Global Reach offers high-quality services in Chinese translation (simplified and traditional), Japanese translation, and Korean translation. Each of our translation specialists is highly skilled in converting materials to fit the language, customs, and technology of your target country. We work closely with you to insure that your adapted materials preserve the integrity of original meaning, while remaining sensitive to the cultural nuances of your target country.
Although we're best known for working with larger firms, we welcome projects from quality-conscious smaller firms, too. Our on-time delivery and three-stage quality control processes ensure that no matter who we're working with, we consistently deliver quality work that preserves the true meaning of your original text. Arial Global Reach is driven by a desire to bring the world's best technologies to the people of Asia by acting as a communications bridge to global technology leaders. We insist on the ultimate in quality work and we take full responsibility for every word we write.
Arial Global Reach Clients:
Every logo shown below represents a satisfied Arial Global Reach client. We've completed localization projects for the best-known firms in the high-tech industry, and they keep coming back for repeat projects.